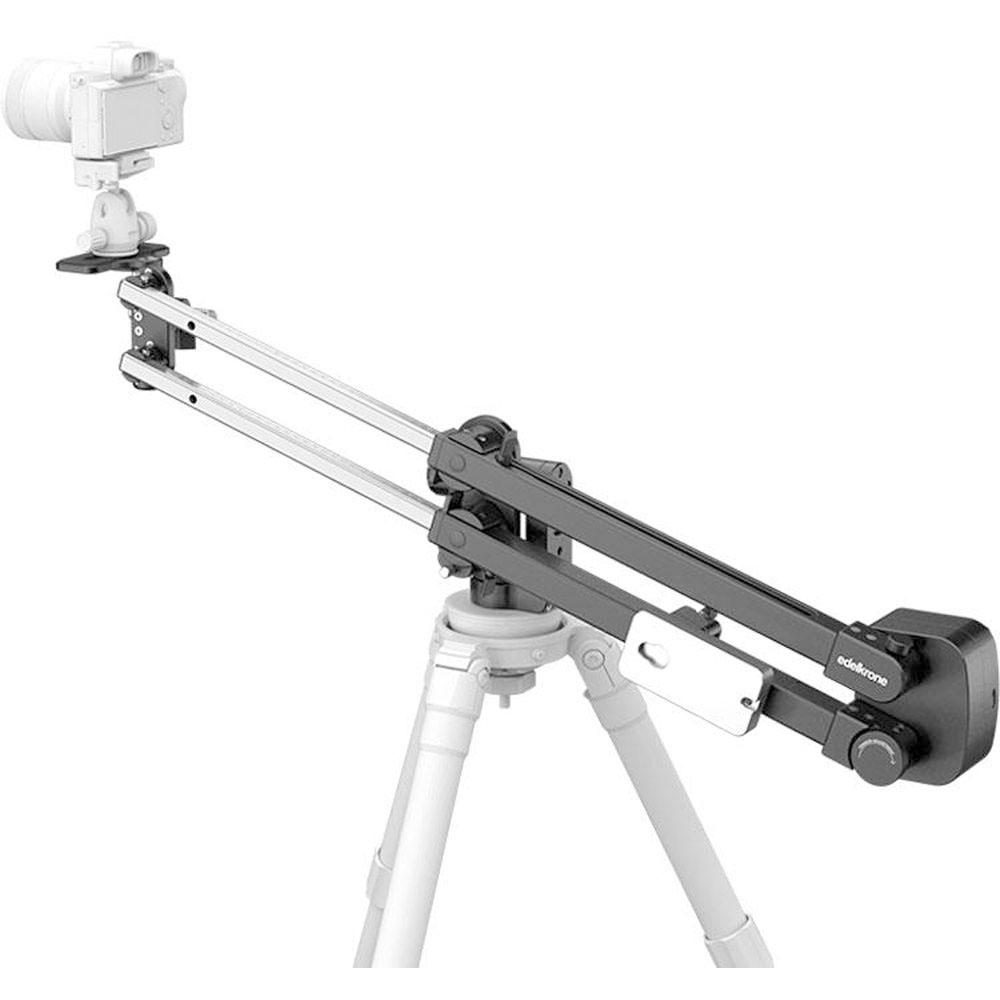 JibOne
Carrying case
Counterweights
Power adapter
Optional: V mount power, V mount battery, extra weights, compatible tripod.
Our Productions with Edelkrone Jib One
Description
Add a jib to your production for smooth, sweeping pan, tilt, and diagonal shots using the JibONE Motion Control Jib Tripod Attachment from edelkrone. The JibONE mounts onto a tripod and provides motorized tilt and pan functions for camera rigs up to 11 lb. It is constructed from aluminium with stainless steel components, which create a strong, durable frame. Operation is virtually silent and smooth, and while it is motorized and can be controlled remotely, it can also be operated manually.
The JibONE has a quick and easy setup, mounting onto a tripod using a 3/8"-16 thread, and the camera or camera rig mounts onto the end of the arm using a 3/8"-16 screw. The jib arm measures 2' long when folded, and provides 1.6' of camera travel when in motion. Four 2.2 lb counterweights are included to balance heavier rigs, and they can be added one by one to accommodate different rig sizes.
The motor allows the camera to travel 1.6' at variable speeds between 8 and 140 seconds per second, controlled by the smartphone app. The JibONE app connects to the jib via Bluetooth and allows you to control the settings, speed, tilt, and pan. It also allows you to set a one-touch time-lapse as well as combine with optional HeadPLUS or HeadONE units to utilize target tracking, target switching, sequencing, and target learning. You can also connect your camera to the 2.5mm shutter trigger port to control shutter and run/stop camera operation.
The JibONE is powered using a 100 to 240 VAC power supply, or it can be powered using separately available dual LP-E6 or L-series battery plates. A 59" long 2.5mm male-to-female shutter extension cable is also included with the unit to provide additional slack, preventing cable pulls during movement.
Features
Motorized jib mounts onto a tripod with 3/8"-16 thread
3/8"-16 camera or head mounting screw
Supports camera rigs up to 11 lb
Control manually or via Bluetooth with app
Four stackable 2.2 lb counterweights included
Camera travels up to 1.6' at variable speeds between 8 and 140 seconds per second
59" long 2.5mm male-to-female shutter extension cable included
App supports iOS 11.0 or later and Android 5.0 or later
Compatible with HeadPLUS and HeadONE
Rental Terms and Conditions
Rental T&C. Most rentals are done via FatLlama. For qualifying corporate clients we might be able to do ad-hoc contracts directly with our company. The procedure for hiring gear from us involves registering on the FatLlama website and providing details (such as proof of ID). When picking up the equipment you'll need to provide your ID (e.g. passport) and proof of address. In case you damage the equipment, you'll take care of the repairs yourself. Any days lost due to the item being repaired will be charged as standard rental fees. Pickups and returns must be at the same hours and location. Late returns will be charged (One day rental = 24h).
Rental Approval Time. Please allow at least two days for the approval process.
Location and Delivery. Deliveries and returns are normally done in person at our address in Cambridge (see item location on FatLlama). Depending on circumstances we might deliver and collect the items at your doorstep.