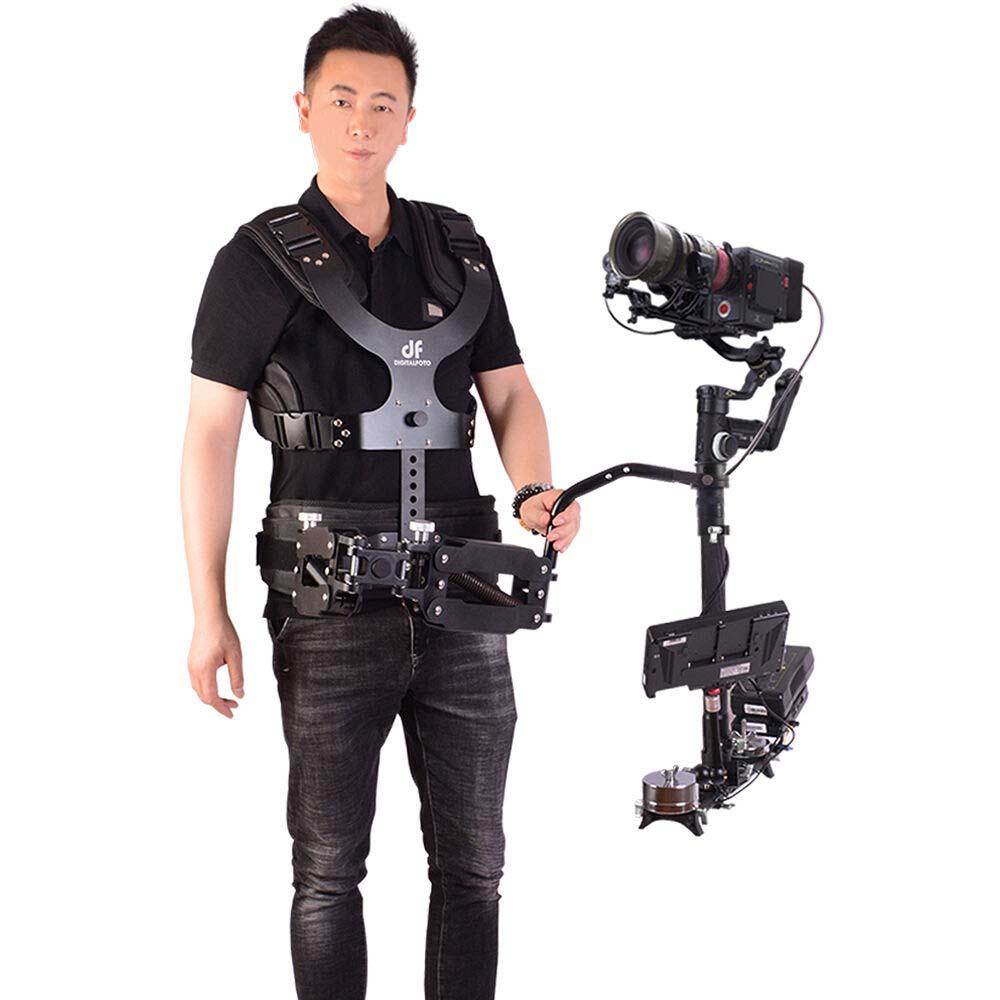 DF DIGITALFOTO Thanos Pro II Support Vest Steadicam System
Our Productions with Digitalfoto Thanos Pro 2
Description
DigitalFoto's THANOS-PRO got great success for DJI Ronin S, Moza air 2, Zhiyun crane 2 Gimbals. With the development of the gimbal industry, more and more innovative gimbals were released. DJI RS2/RSC2, Zhiyun Crane 3S, etc. Gimbal + Gears on gimbal make whole setup heavier and harder to carry. Gimbal market is calling for the THANOS-PROII.
The monitor can be installed on the collar or monopod sled base according to your demand You can adjust the counterweight quantity according to your gimbal, arm, and gears weight
If a V Mount power system is installed on the sled base, you will reduce the side counterweight which may cause an imbalance
If your top part is too heavy, you can extend monopod length or add counterweight; If your top part is too light, you can shorten the monopod length to reduce counterweight
When installed, adjust the dual spring arm tension until the arm is horizontal; Rotating the knob clockwise, will increase the tension of the arm; Turning the knob counter clockwise, will reduce the tension of the arm
Adjusting the vest lower can help with back fatigue
To achieve best shooting condition, you should keep the gimbal still, by adjusting the bottom counterweight and gimbal head position
To ensure 100% safety, when the yoke installation is complete, we advise locking the structure which will avoid golden release Retractation. You MUST lock this, to avoid any potential risk
Rental Terms and Conditions
Rental T&C. Most rentals are done via FatLlama. For qualifying corporate clients we might be able to do ad-hoc contracts directly with our company. The procedure for hiring gear from us involves registering on the FatLlama website and providing details (such as proof of ID). When picking up the equipment you'll need to provide your ID (e.g. passport) and proof of address. In case you damage the equipment, you'll take care of the repairs yourself. Any days lost due to the item being repaired will be charged as standard rental fees. Pickups and returns must be at the same hours and location. Late returns will be charged (One day rental = 24h).
Rental Approval Time. Please allow at least two days for the approval process.
Location and Delivery. Deliveries and returns are normally done in person at our address in Cambridge (see item location on FatLlama). Depending on circumstances we might deliver and collect the items at your doorstep.