Samyang Ef 24mm T1_5 Vdslr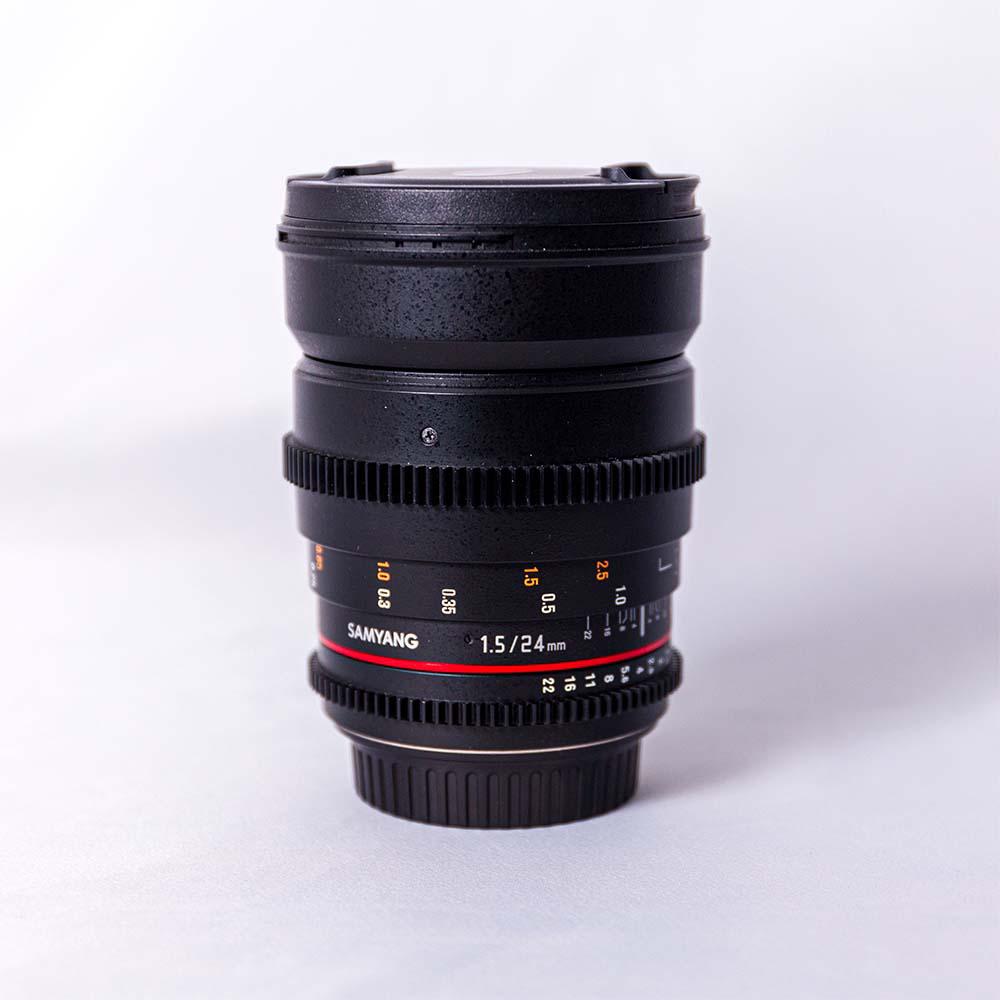 Samyang EF 24mm T1.5 VDSLR (Canon EF mount)
Our Productions with Samyang Ef 24mm T1_5 Vdslr
Description
The Samyang VDSLR 24mm T1.5 MK2 is a compact, high quality, fast prime cine lens, available in several mounts. It has full-frame coverage and is optimised for use on video, DSLR and mirrorless cameras.
Whether this is your first dedicated cine lens or you are simply looking for amazing performance from compact glass, the MK2 version inherits the superb optics and build quality from the previous model, but has several added features for enhanced performance and handling.
All models in the VDSLR MK2 range have unified focus and aperture gear ring positions. This allows for easy changing of lenses without having to adjust follow-focus systems and rigs. For added convenience and professional usage, focus scales, apertures and focal lengths are visible on both sides of the lenses.
The new 9-bladed aperture delivers smooth and circular bokeh, which adds a three dimensional quality to the subject and pleasing out-of-focus effects. An 18-ray starburst highlight effect can also be created by stopping down to small apertures.
Weather-sealing now protects the most vulnerable gap between the lens and camera mount, to prevent dust, light rain and snow from penetrating. It provides the ability and confidence to capture stunning images in less than perfect conditions.
Due their compact dimensions and lightweight, Samyang VDSLR MK2 lenses are ideal for use handheld, with gimbal, on car mounts and drones. They offer an ideal way to experience the quality of genuine cine lenses on a low budget, for high quality video making. They are especially popular with YouTubers.
Rental Terms and Conditions
Rental T&C. Most rentals are done via FatLlama. For qualifying corporate clients we might be able to do ad-hoc contracts directly with our company. The procedure for hiring gear from us involves registering on the FatLlama website and providing details (such as proof of ID). When picking up the equipment you'll need to provide your ID (e.g. passport) and proof of address. In case you damage the equipment, you'll take care of the repairs yourself. Any days lost due to the item being repaired will be charged as standard rental fees. Pickups and returns must be at the same hours and location. Late returns will be charged (One day rental = 24h).
Rental Approval Time. Please allow at least two days for the approval process.
Location and Delivery. Deliveries and returns are normally done in person at our address in Cambridge (see item location on FatLlama). Depending on circumstances we might deliver and collect the items at your doorstep.