Samyang 35mm T1_5 Canon Ef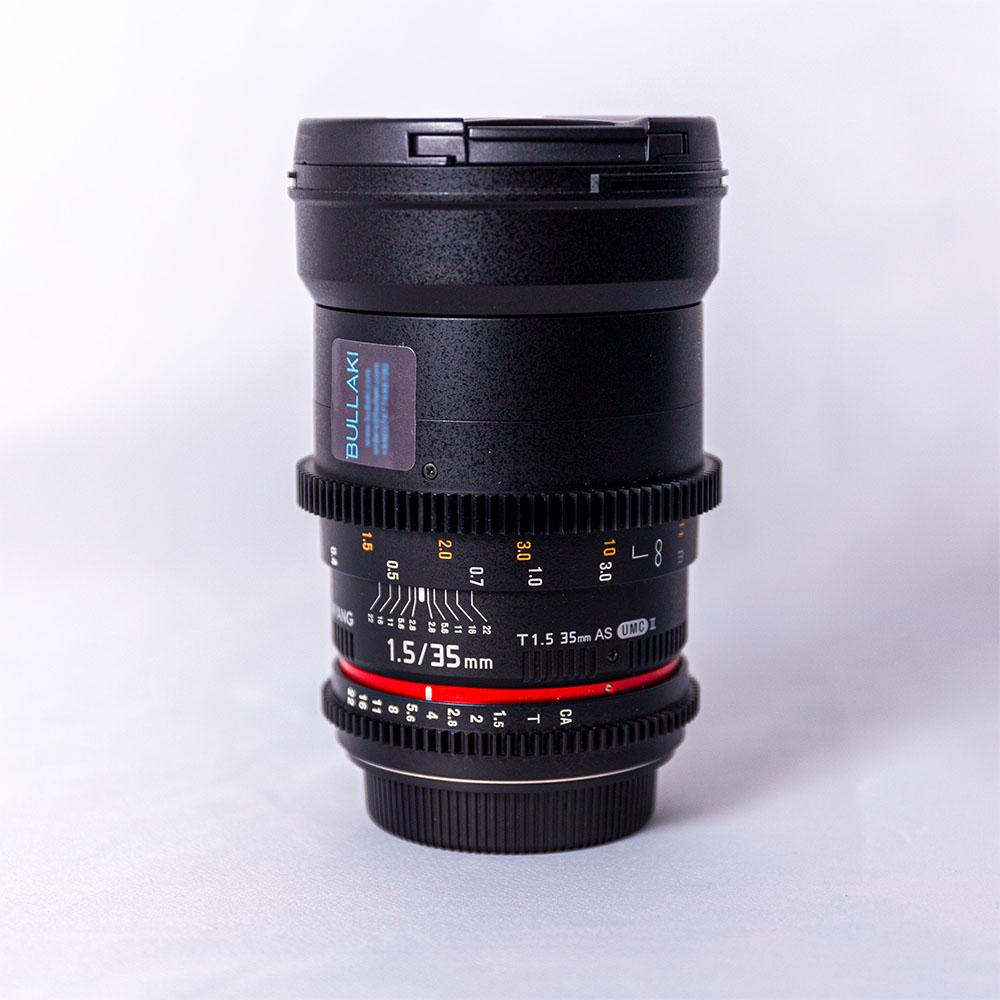 Samyang EF 35mm T1.5 VDSLR (Canon EF Mount)
Our Productions with Samyang 35mm T1_5 Canon Ef
Description
Universal cine lens for multi purposes: glass aspherical lens (ASP), high refractive index lens (HR), ultra Multi Coating (UMC) of Samyang Optics, VDSLR II CINE LENS.
Wide Angle Manual Focus Cine Lens
Samyang Optics 35mm T1.5 VDSLR AS UMC II is a wide angle manual focus cine lens designed for full frame sensor sizes.
Cine Lens Features
The Samyang 35mm T1.5 VDSLR AS UMC II is carefully designed for professional film and video works so the focus gear ring is installed for follow focus system. You can change the aperture quickly and smoothly with the uncoupled aperture gear ring. The T number guiding the actual amount of light transmission and distance scales are marked on both sides of the lens to film more precisely. The lens operates in manual aperture system with a low T number which enables natural shooting under various light exposure circumstances.
Optical Features
As the Samyang 35mm photo lens does, this cine lens also has an outstanding optical function. The Samyang 35mm T1.5 VDSLR UMC II features 12 lenses in 10 groups including 2 high refractive index lenses (HR) to compactify the size of the lens and increase the sharpness. Glass aspherical lens (ASP) minimizes colour aberration to realize exceptional image quality and high contrast for center and the corner of the image even when the aperture is fully opened. Ultra Multi Coating (UMC) technology of Samyang Optics optimizes the light penetration and minimizes flare and ghost. Samyang 35mm T1.5 II is known for its beautiful and soft bokeh. It adapts the floating lens system to find the minimum focus distance. There are 8 aperture blades designed to be almost as a full circle when the aperture is closed which expresses starlike ray clearly and beautifully.
Hardware Features
Samyang VDSLR lens can be used both in photography and cinematography, perfect for amateurs and professionals. The frame of the Samyang 35mm T1.5 II is compact and solid since it is made of high-strength aluminium alloy so trustworthy images can be captured even in an inferior environment. Also, the detachable petal-shaped lens hood shelters the lens from unnecessary lights. The filter size is 77mm. Available for 10 camera mounts: Canon, Canon-M, Nikon, Pentax, Sony ∝, Sony-E, Four-Thirds, MFT, Samsung NX and Fujifilm-X.
Samyang Optics VDSLR Lens Line
Samyang 35mm T1.5 II is one of Samyangs Optics VDSLR lens line for full frame image sensor size. The lenses produce the same image colour and have a united location of aperture and focus gear ring to maximize the convenience when filming.
Rental Terms and Conditions
Rental T&C. Most rentals are done via FatLlama. For qualifying corporate clients we might be able to do ad-hoc contracts directly with our company. The procedure for hiring gear from us involves registering on the FatLlama website and providing details (such as proof of ID). When picking up the equipment you'll need to provide your ID (e.g. passport) and proof of address. In case you damage the equipment, you'll take care of the repairs yourself. Any days lost due to the item being repaired will be charged as standard rental fees. Pickups and returns must be at the same hours and location. Late returns will be charged (One day rental = 24h).
Rental Approval Time. Please allow at least two days for the approval process.
Location and Delivery. Deliveries and returns are normally done in person at our address in Cambridge (see item location on FatLlama). Depending on circumstances we might deliver and collect the items at your doorstep.