Xrite Calibrate Colorchecker Passport Video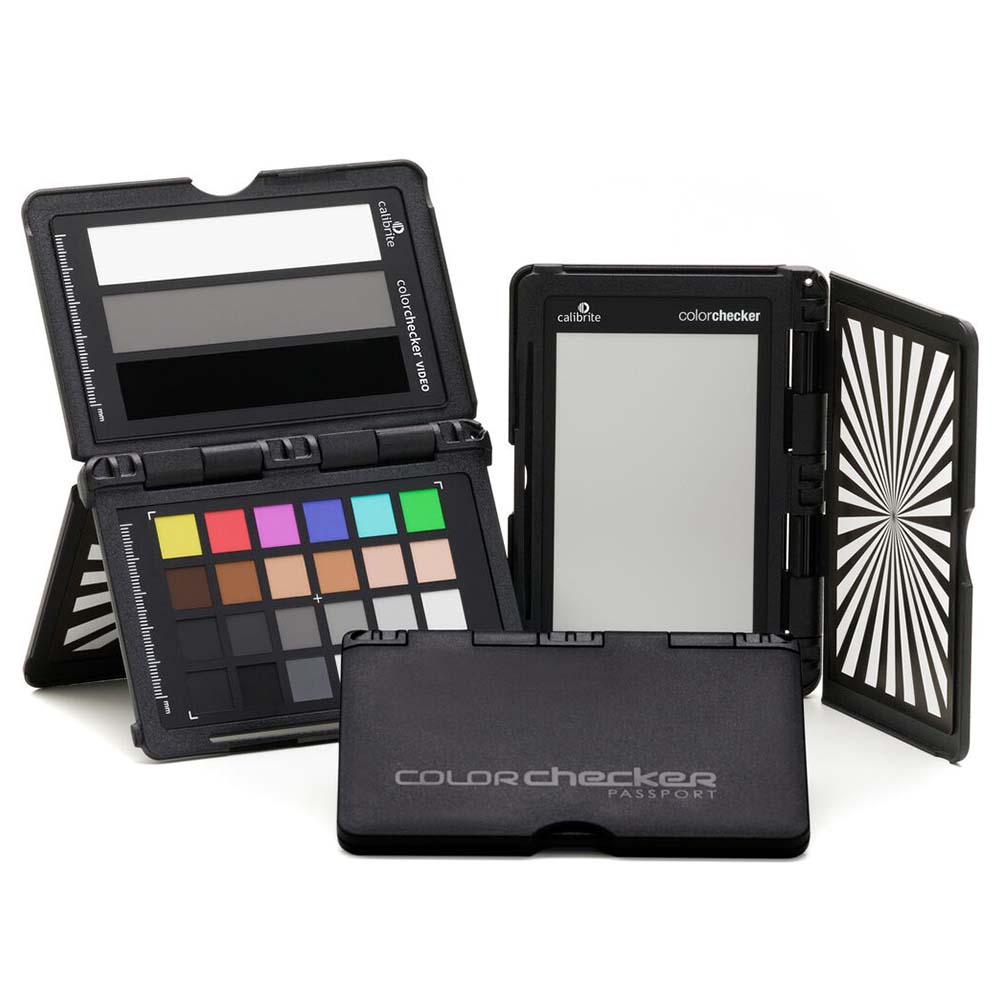 Calibrite ColorChecker Passport Video: Colour Chart for Colour Correction in Video Editing.
Our Productions with Xrite Calibrate Colorchecker Passport Video
Description
Bringing control and consistency to your workflow can be a creative boon, and the Calibrite ColorChecker Passport Video provides you with tools that allow you achieve more consistent results, quicker, and with more ease. Designed for the professional, non-professionals can also benefit from using this tool with their editing and colour correction applications. The pocket-sized hard case is easily carried with you, contains all four test charts, and protects the charts from dirt and fading when not in use.
The three included colour calibration targets and focus target provide a wide range of options for use on your shoot. The focus target can be used to check your lens's calibration, and you can use it to set your focus on your subject. The white balance card aids you in manually setting your camera's white balance in changing environments. The grayscale card and colour chip chart provide you with references for colour balancing your footage in post, whether trying to intercut two different cameras together or adjust to different lighting set ups.
Use For
Colour grading
Colour balancing
Gray balancing
Setting perfect exposure
Colour matching multiple cameras
Shooting and editing for mixed lighting
Software Compatibility
ColorChecker Passport Video is supported by 3rd party software solutions for improved color grading and monitor calibration efficiencies. Supported software includes (but is not limited to):
DaVinci Resolve
3DLUT Creator
Video Colour Target
The grayscale chips run vertically, which matches a waveform monitor's display much better than a horizontal scale does. Further, the chromatic and skin tone chips match the video spectrum, and line up with the target axis on a vectorscope.
White Balance Target
Creating in-camera white balance helps to start at a neutral point for all images you capture. Balancing your footage to a consistent colour balance makes editing go smoother, and is less jarring when cutting from one shot to the next. The consistent colour balance can also speed up colour correction, and with the increased speed and ease, you may find yourself with more time and energy to explore creative colour choices. With this chart you can:
Eliminate colour casts
Improve the colour preview on your camera's display
Make post-production colour correction and editing faster and easier by eliminating the need to neutralize each frame/shot individually
Grayscale Target
The three panels of the grayscale target are white, 40 IRE grey, and black. These targets can be used to align the exposure and contrast of cameras you may be matching on set, and can help ensure that mid-tones, such as flesh tones, are rendered accurately. The combination of the white, grey, and black patches allow you to evaluate your exposure to prevent your highlights from clipping, while protecting your shadow detail, and 40 IRE provides a good standard to compare your exposure on faces to.
Focus Target
The focus target can be used to confirm / adjust your lens's flange focus / back focus distance. You can also use it to shoot focus test and compare your different lenses sharpness to each other.
Passport Case
ColorChecker Passport Video was designed for convenience and portability so that you can take it with you to every shoot. The travel-sized case is made of a rugged plastic material that houses and protects the four targets from the elements and extends their lifespan. The self-standing Passport case adjusts to multiple positions, allowing you the flexibility to place the targets exactly where you need them. Plus, the included lanyard ensures your Passport is close at hand during every photo shoot.
Rental Terms and Conditions
Rental T&C. Most rentals are done via FatLlama. For qualifying corporate clients we might be able to do ad-hoc contracts directly with our company. The procedure for hiring gear from us involves registering on the FatLlama website and providing details (such as proof of ID). When picking up the equipment you'll need to provide your ID (e.g. passport) and proof of address. In case you damage the equipment, you'll take care of the repairs yourself. Any days lost due to the item being repaired will be charged as standard rental fees. Pickups and returns must be at the same hours and location. Late returns will be charged (One day rental = 24h).
Rental Approval Time. Please allow at least two days for the approval process.
Location and Delivery. Deliveries and returns are normally done in person at our address in Cambridge (see item location on FatLlama). Depending on circumstances we might deliver and collect the items at your doorstep.