3 x BlackMagic Design Micro Converter SDI to HDMI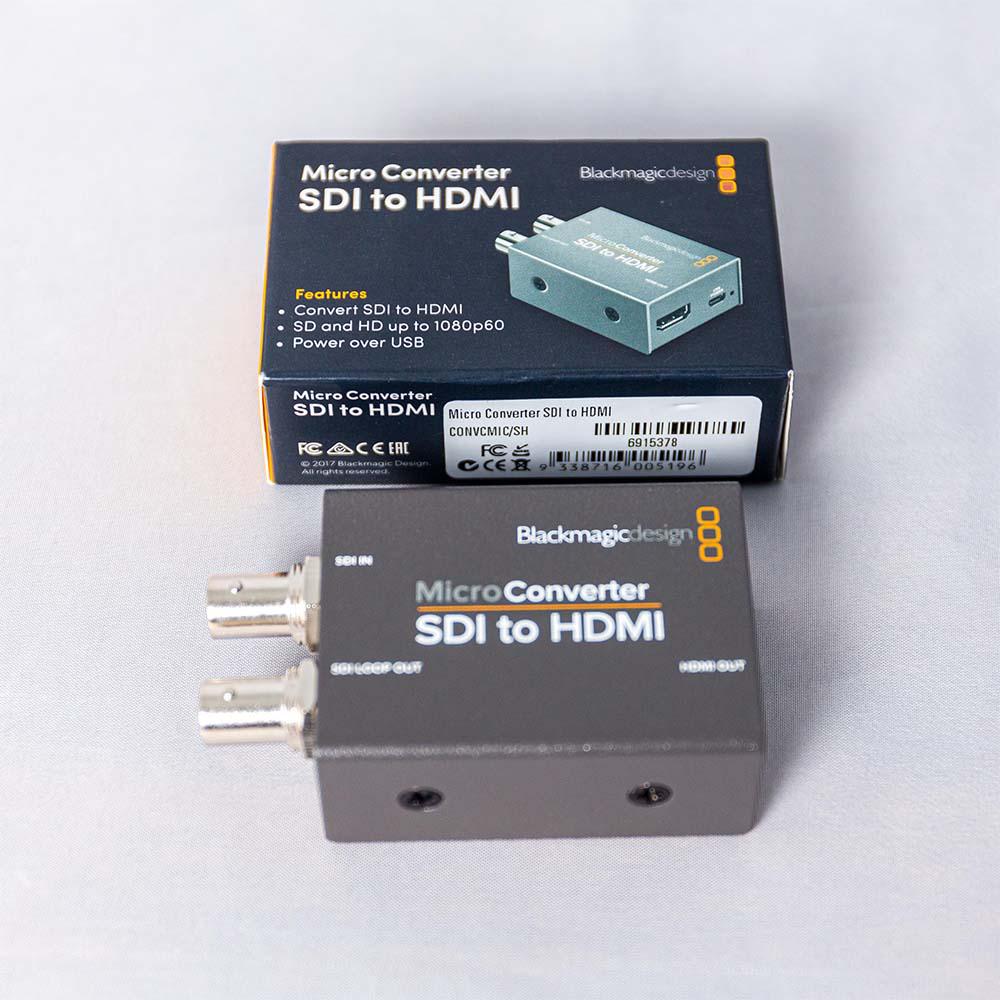 3 x BlackMagicDesign Micro Converter SDI to HDMI
Our Productions with 3 x BlackMagic Design Micro Converter SDI to HDMI
Description
Super compact and rugged, the Micro Converter SDI to HDMI 3G from Blackmagic Design enables you to use HDMI-input monitors and televisions for production monitoring. This compact converter has one SD/HD/3G-SDI input, one HDMI output, and one SD/HD/3G-SDI loop output. It includes a 17-point 3D LUT that can be used to calibrate HDMI- or SDI-input monitors and it can output a LUT for viewing via the SDI loop output. The Micro Converter SDI to HDMI 3G also features automatic SD, HD, and Level A and B SDI detection and support for a wide range of pro broadcast resolutions including cine-style 48 fps.
This pocket-sized converter features a sturdy metal housing with power and signal LED status indicators and rugged connector interfaces. A USB Type-C port enables the SDI to HDMI 3G converter to easily connect to and be powered by large-screen monitors, laptops, desktop computers, or projectors. You can also power this converter using the separately available 100-240 VAC power supply, complete with four international socket adapters.
Features
HDMI & SDI Outputs
One SD/HD/3G-SDI input
One HDMI output and one SD/HD/3G-SDI loop output
Robust metal housing and rugged connectors
USB Type-C port for powering via a compatible component like a monitor or laptop
Updatable via the USB Type-C port and your Mac or PC
Supports a 7-point 3D LUT for color calibrating your monitor, television, or projector
Outputs LUT for monitoring via SDI loop output
SDI support up to DCI 2Kp60
HDMI support up to 1080p60
Supports embedded HDMI input and embedded SDI output
LED indicators for video and power signals
Power from a monitor, laptop, or other component using the USB Type-C port
Separately available 100-240 AC power supply with four socket adapters
Rental Terms and Conditions
Rental T&C. Most rentals are done via FatLlama. For qualifying corporate clients we might be able to do ad-hoc contracts directly with our company. The procedure for hiring gear from us involves registering on the FatLlama website and providing details (such as proof of ID). When picking up the equipment you'll need to provide your ID (e.g. passport) and proof of address. In case you damage the equipment, you'll take care of the repairs yourself. Any days lost due to the item being repaired will be charged as standard rental fees. Pickups and returns must be at the same hours and location. Late returns will be charged (One day rental = 24h).
Rental Approval Time. Please allow at least two days for the approval process.
Location and Delivery. Deliveries and returns are normally done in person at our address in Cambridge (see item location on FatLlama). Depending on circumstances we might deliver and collect the items at your doorstep.