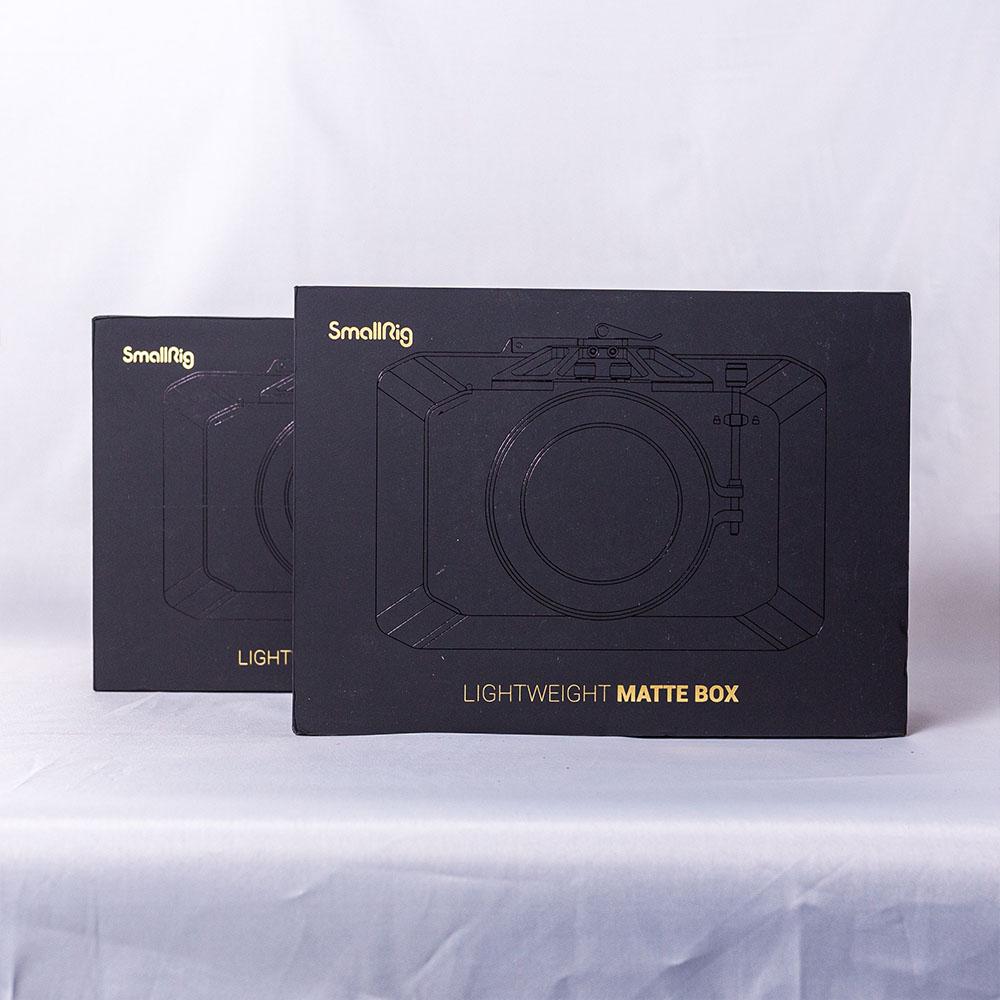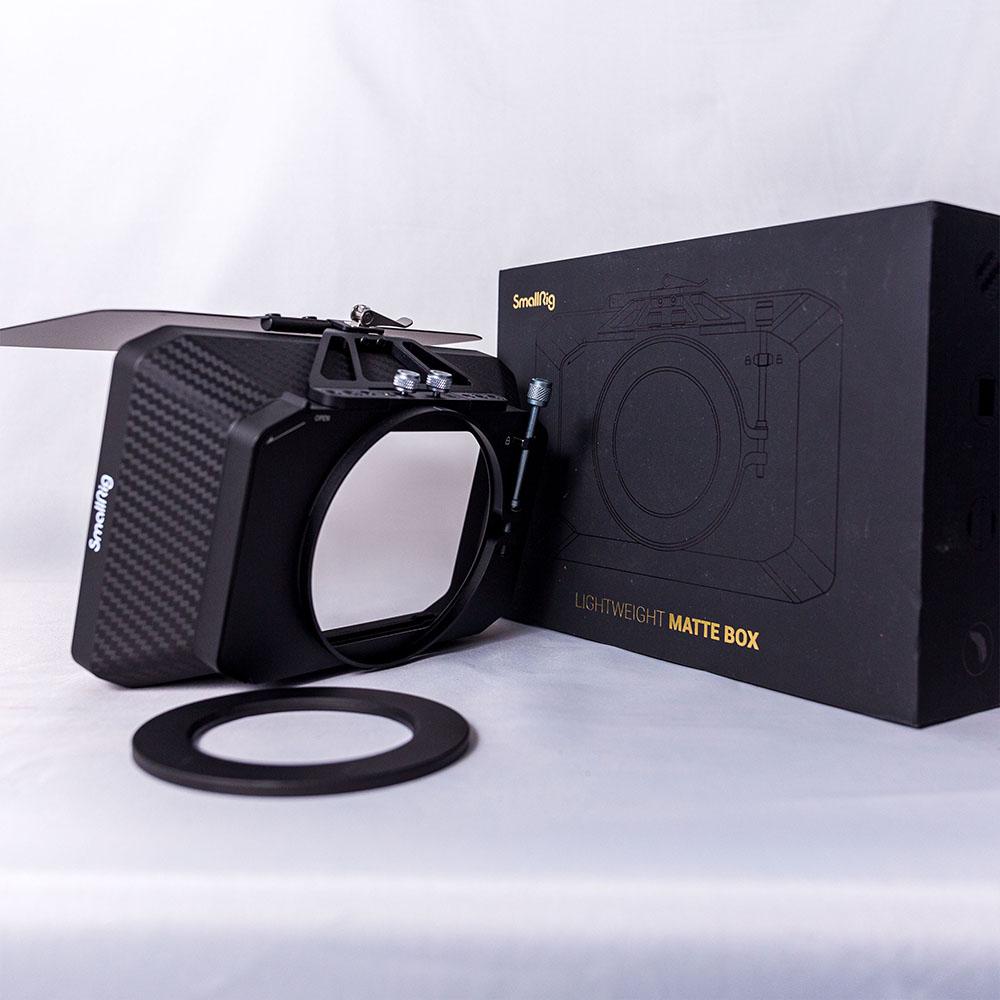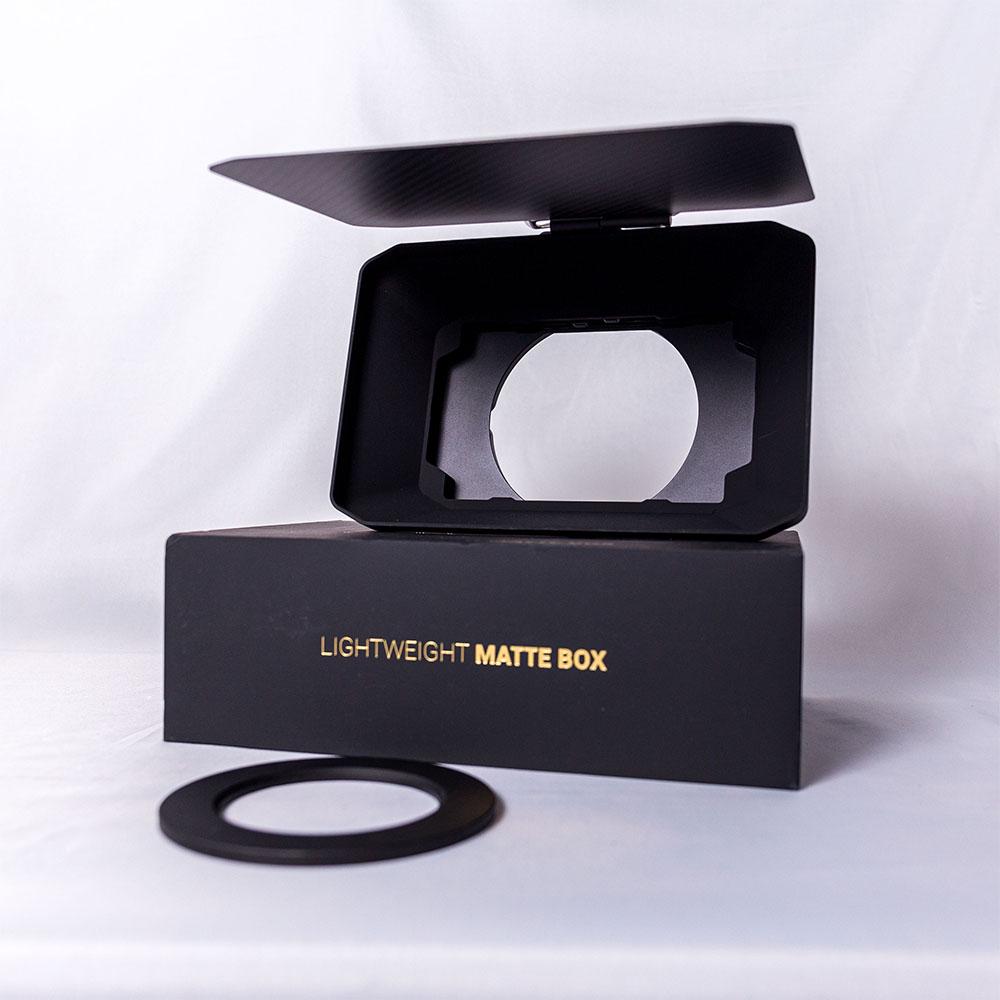 2 x SMALLRIG Matte Box (with 67mm/ 72mm/77mm/82mm-114mm Lens Adapter Ring) 2660.
Our Productions with Two Small Rig Matte Box
Description
Add a compact matte box to your rig without much-added weight with the Lightweight Carbon Fiber Matte Box from SmallRig. The matte box suits small mirrorless or DSLR cameras and is made from durable but lightweight carbon fibre material. It accepts two 4 x 4 or 4 x 5.65" filters without the use of filter trays and includes four adapter rings to attach the matte box to the lens.
The included carbon fibre top flag helps block veiling glare or bright reflections from striking your lens, and it can be folded down to cover the front of the matte box and provide protection to the front of your lens. There are four 1/4"-20 threads on top of the matte box that allow you to mount additional accessories. The matte box can be mounted onto your rig using an optional 15mm LWS rod clamp that attaches to the bottom 1/4"-20 thread on the matte box.
The matte box features a 114mm diameter opening, and the included 67, 72, 77, and 82mm threaded adapter rings allow you to use the matte box with lenses of different sizes and diameters. A separately available 114 to 95mm adapter ring can be used for additional lenses.
Features
The matte box is made from durable and lightweight carbon fibre
The matte box has a 114mm opening and attaches directly to the front of a lens using the included 82, 77, 72, and 67mm adapter rings
Four 1/4"-20 threads on top of the matte box allow you to mount additional accessories
Two 4 x 4" or 4 x 5.65" filters can be added to the front of the matte box
A carbon fibre top flag is included to block unwanted glare
An optional mount can be attached using the 1/4"-20 thread on the bottom of the matte box
An optional 114 to 95mm adapter ring (2661) is available for additional lenses
Rental Terms and Conditions
Rental T&C. Most rentals are done via FatLlama. For qualifying corporate clients we might be able to do ad-hoc contracts directly with our company. The procedure for hiring gear from us involves registering on the FatLlama website and providing details (such as proof of ID). When picking up the equipment you'll need to provide your ID (e.g. passport) and proof of address. In case you damage the equipment, you'll take care of the repairs yourself. Any days lost due to the item being repaired will be charged as standard rental fees. Pickups and returns must be at the same hours and location. Late returns will be charged (One day rental = 24h).
Rental Approval Time. Please allow at least two days for the approval process.
Location and Delivery. Deliveries and returns are normally done in person at our address in Cambridge (see item location on FatLlama). Depending on circumstances we might deliver and collect the items at your doorstep.